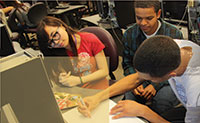 The academic "redshirt" program, designed to increase the success rate for students from economically- and educationally-disadvantaged backgrounds, is reporting positive impact in terms of student retention and performance. Read more »

Hyperloop, a ground transportation theory developed by Elon Musk, would allow people to travel at hypersonic speed via pods inside vacuum tubes. UWashington Hyperloop joined engineering and design student teams from across the country to work through the idea and received an award and a big surprise at a ceremony in January. Read more »

Mechanical engineers are developing a miniature microscope that allows doctors to distinguish healthy cells from cancerous ones in an office and let surgeons "see" where to stop cutting. Other research: Helping kids set technology rules for their parents; delivering Wi-Fi at drastically lower energy usage. Read more »

The Center for Sensorimotor Neural Engineering has received $16M from the NSF to work on first implantable device to reanimate paralyzed limbs; engineering student teams win big at 2016 UW Innovation Challenges. Read more »
Eleventh Annual Dinner
Friday, May 20, 2016, 6-9 p.m.
wǝɫǝbʔaltxʷ – Intellectual House, UW Campus

Please join the College of Engineering as we honor six engineers with 2016 Diamond Awards for their outstanding professional and community achievements.
Frank Jungers, '47 BS Mechanical Engineering
Dean's Award
During his 31-year career at the petroleum giant Arabian-American Oil Company (now Saudi Aramco), Frank Jungers was an influential figure at critical moments in the development of the Middle East oil industry.
Michael Garrison, '99 PhD Bioengineering
Distinguished Achievement in Industry
Michael Garrison has helped to improve care, prevent infection and enable cost-effective drug delivery around the globe by overseeing the development and commercialization of critical medical devices and products—impacting the health of billions and advancing the future of medical technology.
Louis Scharf, '64 BS, '66 MS, '69 PhD Electrical Engineering,
Distinguished Achievement in Academia
Louis Scharf's 45-year research and teaching career has been dedicated to statistical signal processing, one of the essential elements of contemporary digital technology. A foremost authority in his field, Louis is a Life Fellow of IEEE and has held professorships and visiting appointments at universities nationally and internationally.
Peter Janicki, '89 MS Mechanical Engineering,
Entrepreneurial Excellence
Peter Janicki's pioneering work in composite tooling has transformed the aerospace, wind energy and transportation industries. In a partnership with the Gates Foundation, Peter developed the Omni Processor, a revolutionary device to redefine water sanitation around the world.
Ronald Crockett, '61 BS Mechanical Engineering,
Distinguished Service
Ron Crockett has founded of multiple successful companies and is known for his business acumen. But some of his most remarkable contributions are in service to higher education. Ron attended the UW with scholarship support and has been committed throughout his career to helping students succeed.
Ben Hindman, '07 BS Computer Science & Engineering,
Early Career
You can thank Ben Hindman for the speed, ease, and reliability of Yelp and Netflix. As the co-creator of Mesos technology and founder of Mesosphere, Inc., Ben improved the efficiency of data systems and sparked an innovative new technology industry.
Learn more about the honorees and the dinner at www.engr.uw.edu/da