Student experience
THE STUDENT EXPERIENCE
Engineering student team heads to SpaceX for Hyperloop competition
Imagine traveling from San Francisco to Los Angeles in under 30 minutes at transonic speed. Sound unreal? A team of engineering students known as UWashington Hyperloop has been working to actualize this process, and they've received an award for their work from Elon Musk's "hyperloop" design competition.
A ground transportation theory developed by Musk, hyperloop would allow people to travel at hypersonic speed via pods inside vacuum tubes. Musk recently invited engineering and design students across the country to work through the idea. More than 100 teams—including UW's—the challenge.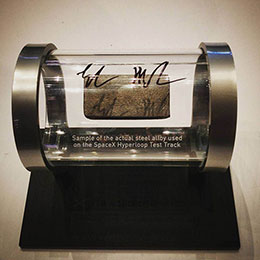 Hyperloop trophy signed by Elon Musk
At a ceremony held in January at Texas A&M University, the UW team—which includes students from several engineering departments—received the Safety Subsystem Technical Excellence Award.
Musk made a surprise appearance at the awards ceremony, during which he expressed his amazement in the interest and talent in the competition. He addressed the teams and took questions from the audience.
Civil engineering senior Malachi Williams asked Musk if he would sign the UW team's trophies, which Musk did. "When Musk came out to talk, I knew I just had to ask him to sign our award," said Williams, who has recently accepted a summer internship with Tesla. He hopes he'll have a chance to let Musk know in-person how much the experience has meant to the UW team.
In the meantime, UWashington Hyperloop will continue to refine their project until the next leg of the competition, where they will be invited to test a prototype hyperloop pod on a one-mile track at SpaceX headquarters in Hawthorne, California this summer.
"I'm most looking forward to being a part of something so new," said teammate and senior electrical engineering major Anthony Grigore. "If this form of transportation gets traction in industry, we can say we were part of the movement to introduce it to the world."
Bioengineering student Caleb Perez receives UW Freshman Medal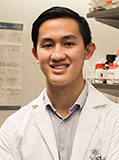 Bioengineering sophomore Caleb Perez has received the UW Freshman Medal for academic achievement from UW President Ana Mari Cauce. This medal is awarded annually to the UW sophomore having the highest scholastic standing for the first year of his or her course. Sophomore and junior medals are also presented to students who have demonstrated outstanding contributions to a world of good and strong interdisciplinary interests in their academic, co-curricular and extracurricular activities.
Perez's interest in bioengineering was inspired by his family's history of health challenges. "We are no strangers to the impact of medicine, both its miracles and shortcomings," he explained. He was particularly motivated by his grandfather, who suffered from acute heart disease.
"A heart transplant gave him the gift of eight additional years," Perez said. But in the eighth year following his transplant, he died after developing an untreatable infection caused by a minor fall. By pursuing a career in bioengineering, Perez hopes to overcome health care challenges such as those experienced by his grandfather and other members of his family.
In addition to his studies, Perez works in a lab under the direction of Ying Zheng, assistant professor of bioengineering, and participates in Bioengineers Without Borders, a student group that develops low-cost, sustainable medical technologies while providing engineering design experience and professional development.