The Trend in Engineering - Spring 2015
Spring 2015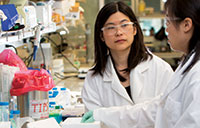 Cross-links make things stronger. That's the idea behind PolySTAT, a UW-developed material designed to strengthen blood clots and stop bleeding in people with severe, life threatening injuries. It also describes the process that led to the innovation, which may one day save the lives of countless trauma patients and soldiers on the battlefield. Read more »

The chance to see cutting-edge technology at work — curling irons and electric powered cooking — drew hundreds to the UW campus for an open house more than 100 years ago. Denny Hall was so crowded that they had to turn people away, according to early reports. That success inspired what's now known as Engineering Discovery Days, a two-day event staged in more than 15 buildings and labs around campus. This year's event marked its 100th anniversary. Read more »

Researchers building a new underwater robot they've dubbed the "Millennium Falcon" certainly have reason to believe it will live up to its name. The robot will deploy instruments to gather information in unprecedented detail about how marine life interacts with underwater equipment used to harvest wave and tidal energy and to identify potential risks. Read more »

On Friday, May 8, 2015, we honored five eminent engineers with 2015 Diamond Awards for their outstanding professional and community achievements.
Alan Miller, 77 PhD Materials Science & Engineering
Distinguished Achievement in Industry
During his 34-year-career at Boeing, Alan spearheaded advancements in aerospace materials and production systems, developing innovative composite materials for the Dreamliner and groundbreaking fire-resistant materials that are used in over 90% of today's airplanes.
Milton Zeutschel
'60 BS Electrical Engineering
Entrepreneurial Excellence
Although Milton Zeutschel has never called himself an entrepreneur, his work speaks for itself. His ability to recognize an engineering problem and design a marketable solution resulted in the formation of three successful companies
Yaw Anokwa
'12 PhD Computer Science & Engineering
Distinguished Service
While volunteering in rural Rwandan health clinics, Yaw Anokwa witnessed significant delays in care caused by paper-based record keeping, so he created a computerized alternative to paper records that helps doctors and nurses make faster and better decisions about care.
Christophe Bisciglia
'03 BS Computer Science & Engineering
Early Career
As co-founder of two game-changing big data companies in the decade since graduating from the UW, Christophe has been a pioneer — bringing big-data computing power to the masses and transforming the way we store and manage data.