Alumni Stars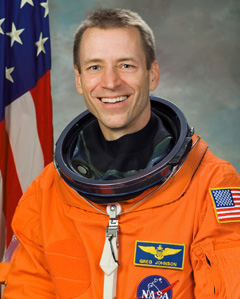 Gregory C. Johnson
High-Flying Pilot to the Hubble
Space Telescope
It's a stunner. One of the first images taken by the rejuvenated Hubble Space Telescope blazes with 100,000 stars residing in the crowded core of Omega Centauri, the biggest star cluster in the Milky Way. "It looks like lots of Christmas lights with red giants, young yellow stars, and cooling blue stars," said Gregory Johnson (AA '77), pilot on the Atlantis crew that flew the last service mission to Hubble. "I'm just ecstatic to see the new images. They are ten times better than previous ones. Astronomers are beside themselves, and the public is excited too."
The new images are the reward for accomplishing all goals on an extremely difficult and risky mission. The seven astronauts spent 12 plus days orbiting 350 miles above the earth in a zone with more space debris than at the 220-mile altitude of the International Space Station.
Omega centauri photo taken by Hubble. Photo courtesy of NASA.

Five space walks enabled the astronauts to equip Hubble with a powerful $132 million camera, a new spectrograph, six gyroscopes, batteries, and other equipment. Hubble should be "good to go" for at least another five years, peering into the depths of the universe and beaming back images and data.

Johnson first heard about Hubble in 1998, on his second day working at NASA, the very day after the telescope launched into orbit. He could hardly have imagined that his first space flight would be a seat on the last Hubble mission, a highly coveted assignment.
His thoughts when the auxiliary power units turned on a few minutes before liftoff on May 11? "This is not a simulation. We're going!"
No doubt about that when the engines lit up and Johnson felt "a whole lot more shaking than in the simulator — 7.5 million pounds of thrust and high-energy physics at its best." An alarm sounding one second after launch and another 30 seconds later diverted his attention from shaking to troubleshooting, but he and mission commander Scott Altman found no major problems.
Johnson explains the pilot's role as the mission jack-of-all-trades, schedule tracker for daunting 17-hour work days, and backup to the commander. "It's co-pilot duty, but astronaut pilots don't like that title," Johnson admitted with a laugh. He handled many of the thruster burns to position Atlantis so Altman could fly it in close to Hubble, and had a brief stint at the controls after reentering the earth's atmosphere on the flight home. He's still amazed at "having my hands on a $2 billion space ship — big, complicated, and 250,000 pounds, but very responsive."
It's a long way from the seaplanes Johnson flew for Kenmore Air to pay his way through the UW, also helped along by a Boeing scholarship. AA chair Adam Bruckner remembers him as a smart, attentive student who sat in the front row during lab classes.
"My AA studies taught me the value of critical thinking and making decisions based on data," Johnson said. Even at NASA, stocked with engineers and scientists, he stands out as a "show me the data" guy.
After UW, Johnson entered the Navy, becoming a top aircraft carrier pilot, with more than 500 landings and 9000 flight hours in 50 aircraft types. He then joined NASA as a test pilot for the KC-135 microgravity plane and high-altitude WB-57.
"There was only one other flying job in the universe I wanted," he said.
That provided a spectacular view, dramatic sunrises and sunsets, and a role in keeping Hubble alive to expand our knowledge of the universe. He filmed the mission for an IMAX documentary to be released in 2010.
"You'll feel like you're there," he said. Don't miss it — and do register for his November 4 UW talk at UWalum.com.
---
Jeremy Jaech

A Supernova in Our High-Tech Economy
Aldus Corporation (orange on the map below) is a high-profile early sun in the evolution of the Puget Sound technology universe. UW computer science alumnus (MS '80) and Aldus co-founder Jeremy Jaech led development of PageMaker, its revolutionary graphic software and a key driver of the desktop publishing revolution. Even 15 years after its merger with the San Jose-based Adobe, which established a satellite presence in Seattle, Aldus alumni feed the Puget Sound technology universe with talent and seed startups.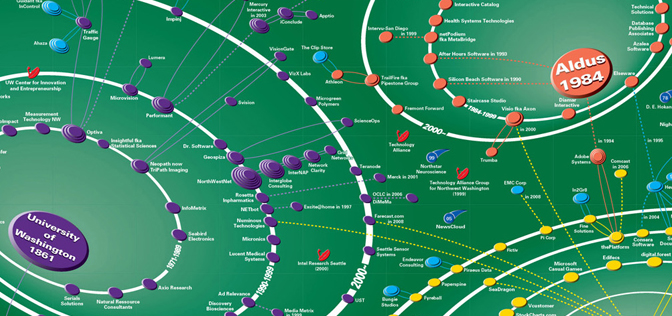 Partial map of the Northwest's tech universe. Click here for a closer look.
Jaech scored another spectacular success with Visio, paradigm-changing technical drawing and diagramming software that filled a big need in the business world. Microsoft recognized a good thing, purchased the company for $1.3 billion in 2000, and markets Visio worldwide as a stand-alone MS Office application.
Both Aldus and Visio were engines for job creation, hiring hundreds of talented UW grads and others, and providing the training and experience that propelled many into influential positions in the high-tech sector.
Late last year, Jaech took on a new challenge as CEO of Verdiem, a young IT company that develops power management software for PC networks. IT accounts for about 4% of total energy usage around the world, and organizations and individuals waste $4 billion a year and exacerbate carbon emissions by leaving computer equipment on 24 hours a day. The City of Seattle has already reduced PC energy use by 35% after deploying Verdiem software on more than 8,000 computers.
"My mission is to scale up the company. We have enormous potential for growth as more businesses and institutions look for ways to go green and save money. We can have a big impact on the environment," Jaech said.
Seattle Business called Jaech "a serial entrepreneur with a magic touch" in their list of the Top 25 Innovators & Entrepreneurs (see #24).
Jaech also has fueled the local economy over the years by securing more than $50 million in venture capital, mostly from California. He sees access to capital as one pillar of a thriving high-tech sector, the others being excellent education and research institutions that generate innovation and a skilled workforce.
As chair of the Technology Alliance, a statewide organization of technology leaders, Jaech believes that promoting an innovation economy is essential to Washington's ability to thrive in a competitive world.
---
Jaech's Corporate Ventures ~ Innovation & Impact
ALDUS
| | |
| --- | --- |
| Co-founded: | 1984 with four colleagues |
| Core Product: | PageMaker desktop publishing software |
| Impact: | Revolutionized publishing and graphic design |
| Jaech Role: | VP engineering & software development till 1989 |
| Employees: | 1000 by 1989 |
| Merger: | 1994 with Adobe, Inc., $535 million stock exchange |
VISIO
| | |
| --- | --- |
| Co-founded: | 1990 with two colleagues |
| Core Product: | Visio technical drawing and diagramming software |
| Impact: | Groundbreaking business software; used by 3.5 million people worldwide by 1999 |
| Jaech Role: | President & CEO, 1990–2000 |
| Employees: | 600 in Seattle, 100+ internationally in 1999 |
| Acquired: | By Microsoft in 2000 for $1.3 billion |
TRUMBA
| | |
| --- | --- |
| Co-founded: | 2003 with two colleagues |
| Core Product: | Web-based calendar sharing software |
| Impact: | 400 customers include Seattle Public Library, New York Times, Smithsonian Institution |
| Jaech Role: | CEO till January 2008; remains co-owner |
VERDIEM
| | |
| --- | --- |
| Established: | 2001 (Jaech was not involved) |
| Core Product: | Surveyor "green IT" power-management software for PC networks |
| Impact: | Reduces network power usage by >30%; key clients include city of Seattle, King County, Washington and California state agencies, and Cox Communications |
| Jaech Role: | CEO since November 2008 |
---