Computer scientist Rajesh Rao to lead national neural engineering center at UW
November 14, 2013 | UW News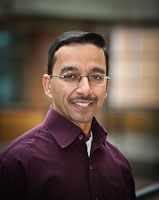 Rajesh Rao
high-res image »
Rajesh Rao has been named director of the National Science Foundation's Engineering Research Center for Sensorimotor Neural Engineering based at the University of Washington. Rao is a UW associate professor of computer science and engineering who has been involved with the center since it was established in 2011.
"These are exciting times to be working in the areas of neural engineering and brain-computer interfacing," Rao said. "I am looking forward to leading one of the largest-scale efforts in the world aimed at improving the lives of disabled people with cutting-edge neuro-technologies and developing neurally engineered devices for novel modes of interaction with the environment."
The center is one of 17 engineering research centers nationwide that aims to translate discovery to innovation through university, industry and government partnerships, and prepare the next generation of creative, interdisciplinary engineers to meet pressing challenges in health, energy, environment and national security. A five-year, $18.5 million grant launched the center nearly three years ago with partners Massachusetts Institute of Technology and San Diego State University, among other colleges, hospitals, industry groups and nonacademic research institutions.
Rao brings expertise in brain-computer interfacing, robotics and computational neuroscience.
"Raj has a rich history of collaboration with roboticists, neurosurgeons and neuroscientists," said Thomas Daniel, a UW biology professor who has served as interim director. "His combined set of skills and expertise uniquely positions Raj to take the center forward."
Rao will remain a professor in computer science and engineering, but will spend most of his time leading the center. He plans to teach one center-related course each year.
Rao earned his doctorate at the University of Rochester and joined the UW in 2001. He holds adjunct positions in electrical engineering and bioengineering and is a faculty member in the UW's Program in Neurobiology & Behavior. He recently published a textbook on brain-computer interfacing.
Rao and collaborators in the UW's Institute for Learning & Brain Sciences recently received worldwide attention for demonstrating the first noninvasive human-to-human brain interface by transmitting signals between two researchers over the Internet. The demonstration sparked questions about communicating research and emerging ethical issues in the rapidly advancing field of neural engineering. The center plans to be a leader in those conversations, Rao said.
"I'm pleased to welcome Raj into this new role as director of the Engineering Research Center for Sensorimotor Neural Engineering," said UW College of Engineering Dean Michael Bragg. "His work is at the forefront of neural engineering efforts and he will be instrumental in advancing critical research both within the University of Washington and nationally in his role at the center."
Rao will start as director on Dec. 15. One of his first tasks will be to lead the center this spring through a three-year renewal site visit. Long-term, Rao hopes the center will be a global leader in neural engineering and neuro-technology.
###
For more information, contact Rao at rao@cs.washington.edu and 206-685-9141.