CEE's Pedro Arduino will be the new associate dean of infrastructure
From the desk of Dean Michael Bragg
March 4, 2015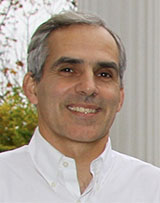 Pedro Arduino
Colleagues,
I am pleased to announce the appointment of Pedro Arduino, professor of Civil & Environmental Engineering, as associate dean of infrastructure effective March 9, 2015. First-class space and facilities are crucial for the college to reach its full potential. This is an important time in CoE with the construction of the NanoES building, remodeling of Fluke Hall, a new CSE building on the horizon, as well as extensive remodeling projects in the planning stages. Infrastructure leadership will have major impact on the college and the UW for years to come.
I'm looking forward to partnering with Pedro as we grow the college and develop high quality facilities for our research and education programs. Pedro will partner with our department and college leadership team on space policy, new infrastructure initiatives, and general use and planning for centralized facilities. Pedro will serve as the primary liaison between the college and UW central administration, external government and private institutions on infrastructure matters. And, he will lead the IT and facilities teams within the college.
Pedro joined the UW's geotechnical group in 1997. His primary research interest are in computational geomechanics with emphasis in constitutive modeling of soils, finite element analysis, meshless techniques, soil structure interaction, and hazard analysis. Much of his current research is in the area of landslide and debris flow simulation, soil-structure interaction, and performance-based earthquake engineering. Pedro held the Ray Bowen Professorship for Innovation in Engineering Education from 2003 to 2007 and received the CEE Outstanding Teaching Award in 2009. Pedro is a member of the ASCE EM Inelasticity and ER Earth and Retaining Structures committees and serves on the editorial board of the ASCE Journal of Geotechnical and Geo-environmental Engineering. He has also served as a consultant to private firms and government agencies in the U.S. and abroad. Pedro brings a wealth of experience and knowledge to this important role that will benefit our students, faculty, and staff.
I would like to thank outgoing associate dean Dawn Lehman for her leadership. Dawn has been a passionate advocate for the importance of high-quality space and she leaves the college and departments in a stronger position relative to their space needs. Additionally, I would like to thank the search committee, Eve Riskin, Paul Beame, Michael Khbeis, and Steve Majeski for their time and dedication to the process.
Please join me in congratulating Pedro.
Michael B. Bragg, Ph.D.
Frank and Julie Jungers Dean of Engineering
University of Washington