John Sahr appointed interim chair of electrical engineering
From the desk of Dean Mike Bragg: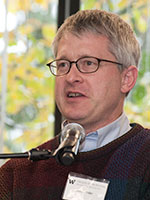 I am pleased to announce the appointment of Professor John Sahr as interim chair of the Department of Electrical Engineering effective July 1, 2014.
John brings a depth of leadership experience to this interim role. He is currently the associate dean of undergraduate academic affairs overseeing the Office of Educational Assessment, Classroom Support Services, the Teaching Academy and the Robinson Center for Young Scholars. He has also served as the Provost's representative to the Joint Transfer Council, a committee which coordinates college transfer policy for Washington State. In the EE department, John has been graduate program coordinator and most recently the associate department chair managing infrastructure and advancement.
John performs research primarily in VHF radar remote sensing of the Earth's upper atmosphere, but also collaborates on research projects in statistical signal processing, image processing, and wireless communications.
I look forward to working with John as we begin a search for the next chair. I believe his administrative experience and dedication to higher education will serve the department and college well. I would like to thank outgoing chair Vikram Jandhyala for his leadership over the last three years. During his tenure, Vikram led the expansion of professional and degree programs and successful faculty recruitment; he furthered international advancement and developed new partnerships with industry, which included the launch of the Northwest Institute for Advanced Computing. I know Vikram will continue to be an important contributor and advocate for EE.
Best Regards,

Michael B. Bragg, Ph.D.
Frank & Julie Jungers Dean of Engineering
College of Engineering
University of Washington