Hallenbeck receives Lifetime Achievement Award from Washington State Institute of Transportation Engineers
June 20, 2013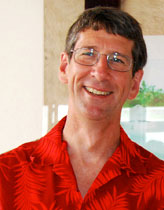 Mark Hallenbeck, director of the Washington State Transportation Center (TRAC) at the UW and associate director of PacTrans, was recently honored by the Washington State section of the Institute of Transportation Engineers (ITE) with its 2013 Lifetime Achievement Award. ITE President Jim Ellison presented Mark with the award and thanked him for his contributions to improving transportation in the region.
Hallenbeck is a dedicated teacher at the UW who frequently receives among the highest student ratings in the Department of Civil and Environmental Engineering and the College of Engineering. He has a reputation for challenging students in classes that are not only rigorous but fun.
Hallenbeck is also a nationally recognized researcher. He has been a TRAC researcher and administrator for almost 30 years, and many of the TRAC staff have remained with him for most of that time. Tellingly, much of the research TRAC has conducted over the years has actually been implemented.
Hallenbeck began studying ways to collect and use transportation data to measure roadway performance long before most transportation agencies ever thought of doing so. He has also been involved in initial research behind implementation of the state's incident response program, its freeway management system, many of the traveler information applications, and the truck weigh station by-pass program.
Hallenbeck combines his research skills with a tremendous ability to clearly and easily explain the how's and why's of complex transportation problems. The local media often talk to him when they need an unbiased assessment of transportation matters and concise sound bites to help their audience better understand complex issues.
In his acceptance speech, Hallenbeck thanked ITE and stressed the benefits of looking for ways to collaborate on solutions to transportation problems that allow everyone to benefit.
See also: Hallenbeck in the News