Highlighting UW Engineering Student Research
Dear Friends of Engineering,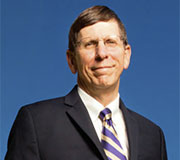 Students come to us motivated to make a difference in the world. At UW Engineering, we are committed to providing the tools and technical skills that enable our students to succeed. When students participate in hands-on, real world experiences, such as student projects, competitions and senior capstone design work, it can transform their engineering education and prepare them to lead in their careers. This experiential learning is deeply empowering and pervasive in all ten departments in the College of Engineering.
In this special edition of Washington Engineer, I am thrilled to share with you five student research projects. Though they represent just a fraction of the many innovative projects that our students are pursuing, these projects – from a noninvasive apparatus to measure breathing distress in infants, to drones that will provide safer and more effective fire monitoring – illustrate the impact of our students' work. I hope you enjoy learning about them here.
Michael B. Bragg
Frank & Julie Jungers Dean of Engineering
Airy
Electrical & Computer Engineering | Foster School of Business
This team has developed a battery-free, wireless home security solution that uses sensors mounted on doors or windows to harvest energy.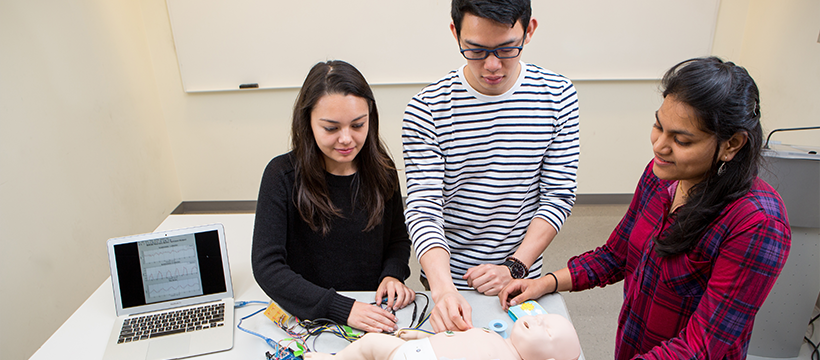 When a newborn struggles to breathe, every moment is critical. Because hospital workers are often not alerted until other symptoms appear, the resulting delay of treatment can lead to complications and, in severe cases, death. Thanks to this student team, that could change. The students worked with pediatric cardiologists from Seattle Children's Hospital to develop a new kind of infant monitor — a noninvasive apparatus that measures changes in infant breathing, chest wall volume and contractions, and greatly reduces medical response time.
Team members include: Nina Reese, Lok To, and Namratha Potharaj
Intravenous arm trainer
Mechanical Engineering
This student team has developed a new arm trainer with four-layer tissue and rolling vein behavior to provide a more realistic training experience.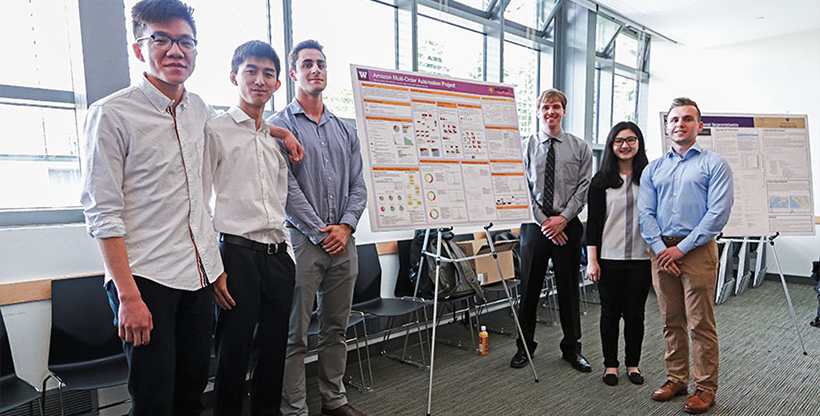 Amazon Fulfillment centers process over a million orders per week. Packaging is the most complex process in order fulfillment, and while automated solutions exist for single-item packages, multi-item packing remains a manual process. Industrial robots could be the answer to automating multi-item packing, and this student team aimed to develop a logic system to guide these robots.
Team members include: Lucas See, Zach Lawless, Matt Lunde, Verina Dinata, Tianyu Ge and Wenhao Zhang
SWARMFx
Chemical Engineering | Aeronautics & Astronautics
The SWARMFx team aims to revolutionize wildfire fighting by implementing drone-based monitoring that provides firefighters with images and data.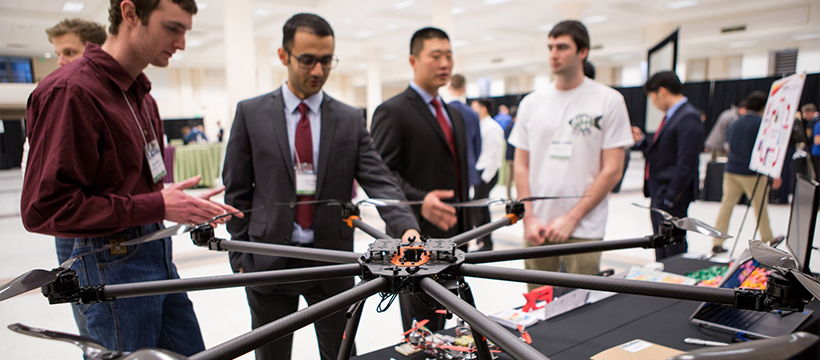 Team members include: Angela Kimber, John Gangi, Zoe Kootstra, Ashraf Faraj, Abdul Jmaileh, Dilraj Bal, Longji Yan, Anya Raj, Kibaek Jeong, Zhikun Lin and Hirotoshi Maeda