Highlighting UW Engineering Student Research
Dear Friends of Engineering,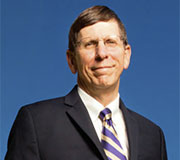 Students come to us with a desire to make the world a better place. Our role as educators is to fuel those aspirations and provide our students with the technical knowledge and tools to implement their dreams. Part of that process is the opportunity to participate in student projects, competitions and senior capstone design work. This experiential learning is deeply empowering, pervasive in all ten departments in the College of Engineering, and enables students to understand early on what it means to be an engineer and the societal impact of the discipline.
In this special edition of Washington Engineer, I am thrilled to share with you five student research projects. They offer a glimpse into the many important, innovative projects that our students are pursuing from retrofitting aircraft for firefighting to developing an affordable epinephrine auto-injector used to treat anaphylaxis, a potentially life-threatening allergic reaction.
The College of Engineering develops creative thinkers, incubates big ideas and advances innovation to solve society's most pressing issues. Our students are at the core of this work. They want to have an impact, and as you'll learn from these projects, they are.
Michael B. Bragg
Frank & Julie Jungers Dean of Engineering
A-10 Retrofitting for Firefighting

Aeronautics & Astronautics
| | |
| --- | --- |
| | Dangerous wildfires are costly to fight, and currently aerial firefighting support is provided by aircraft that are often old or in limited supply. The Boeing Company has been exploring ways to develop more effective and affordable firefighting aircraft through the possibility of modifying retired US Air Force A-10 Thunderbolt II planes to work as water bombers. For this project, students have been working with Boeing engineers to evaluate the concept for stability and feasibility and translate it to design. |
Decaf Style

Chemical Engineering | Foster School of Business
| | |
| --- | --- |
| | This team is developing an inexpensive teabag-style sachet that can decaffeinate a standard cup of coffee without chemicals or affecting taste. Their product, a personal "in-cup" decaffeination technology, consists of natural adsorbents enclosed in teabag-like sachets. To use, simply place the packet into a freshly brewed cup of coffee, wait less than a minute, and then enjoy a cup of decaf coffee knowing it wasn't tampered with chemical solvents. |
EpiForAll

Mechanical Engineering | Materials Science & Engineering
| | |
| --- | --- |
| | EpiForAll is an affordable epinephrine auto-injector used to treat anaphylaxis, a potentially life-threatening allergic reaction. A low-cost method of administering emergency epinephrine is critical in combating anaphylaxis, especially in developing regions. This student team has developed an automatic injection device that utilizes readily available, affordable epinephrine ampules. |
MultiModal Health

Bioengineering | Computer Science & Engineering
| | |
| --- | --- |
| | Completing a challenging level in a video game can feel truly satisfying. Whether a tough opponent is defeated or a racecourse is conquered, that sense of accomplishment pushes players on to the next level of the game. For patients undergoing stroke and traumatic injury rehabilitation, this motivation — combined with the immersive aspect of virtual reality — could also serve as encouragement during a long and slow recovery process. This student team is working to make this idea a reality through a device featuring a series of video games that double as rehabilitative exercises. |
ROV for Georeferenced Underwater Imaging

Electrical Engineering
| | |
| --- | --- |
| | In collaboration with Booz Allen Hamilton, this student team has addressed the challenge of taking precisely georeferenced underwater photographs. Students designed and implemented the imaging system hardware to complement visualization software that Booz Allen Hamilton is developing. Think of it as "Google Earth" for underwater imaging. |
 
Learn more about Student Research & Projects »