Welcoming a New Class of Innovators
Dear Friends of Engineering,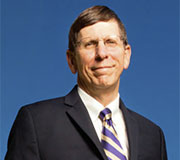 In this special edition of Washington Engineer, I am thrilled to introduce 9 incoming faculty members to the College of Engineering. They are leaders in fields such as regenerative science, transportation networking and clean energy. They join 59 other new faculty members who have started at the College since 2013. This growth reflects our commitment to providing students with a leading-edge educational experience and to developing innovative research solutions that address the grand challenges of today.
1st row: Xuegang (Jeff) Ban (CEE), Andre Berndt (BioE), Youngjun Choe (ISE), Michael Gomez (CEE)



2nd row:Simge Küçükyavuz (ISE), Nirnimesh Kumar (CEE), Julian Marshall (CEE), Brett Maurer (CEE)



3rd row: Lillian Ratliff (EE)


The College of Engineering continues to partner with national institutions, industry leaders and other universities to improve lives in our region and beyond. With more than $12 million in public and private investments, our Clean Energy Institute is working to provide energy-efficient solutions to power the future. The Global Innovation Exchange (GIX) is a groundbreaking partnership between the UW and China's Tsinghua University, with support from Microsoft, that will bring together students, faculty and industry in a new model of global collaboration. These partnerships bolster our standing as a hub for global innovation.
As the 4th most innovative institution in the world as ranked by Reuters, we compete with other top institutions in our recruitment efforts. Our distinguished faculty choose the University of Washington and credit our high level of interdisciplinary collaboration and strong reputation. One new faculty member is Julian Marshall, the John R. Kiely Endowed Professor in Civil & Environmental Engineering. With a newly awarded $10 million Air, Climate and Energy grant from the EPA, Julian will co-lead a research center based at the UW that will bring together expertise in pollution, climate change and energy usage to encourage solutions that address all three areas.
It is an exciting time to be part of the College of Engineering. Adding new faculty in key areas is a critical part of our strategic plan, and we expect to continue this growth into the next decade. Together, we will continue our work to educate great engineers and to produce transformational research and innovations. I invite you to learn more about the newest members of the College in this special edition of Washington Engineer.
Michael B. Bragg
Frank & Julie Jungers Dean of Engineering