Introducing the Global Innovation Exchange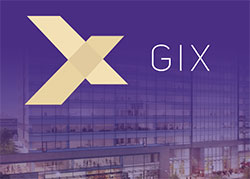 June 2015

Dear Friends of Engineering,

I'm excited to share with you that last week the University of Washington, Tsinghua University and Microsoft announced the launch of the Global Innovation Exchange (GIX).

As part of the UW's Innovation Imperative and with a $40 million commitment from Microsoft, GIX will offer students a holistic, project-based learning environment with a global perspective. Starting in fall 2016, the institute's signature 15-month master's degree in technology innovation will link students and professionals, academia and industry, and experts and entrepreneurs. Together, they will work on real-world technological and design challenges such as mobile health, sustainable development and advanced cloud computing. Within a decade, more than 3,000 learners will be working alongside world-class faculty and industry mentors through GIX.

Engineering faculty from multiple disciplines have partnered across campus and led the development of GIX. Here are a few aspects of GIX that I'm particularly proud of:
Partnership with Tsinghua University: We are honored to partner with Tsinghua University as this is the first time a Chinese research university has established a physical presence in the U.S.
New model for international collaboration in higher education: GIX is based on a structure that makes the participating universities equal partners. Global challenges can't be solved by one discipline alone, and we believe the multidisciplinary model for GIX will serve as a new model for higher education.
Microsoft's commitment: As part of GIX, Microsoft awarded an additional $10 million to our Department of Computer Science & Engineering (CSE) to kick-start a campaign to construct a new building which will allow us to expand CSE.

Microsoft's support of GIX

reflects the company's

broader commitment to championing engineering.
Core involvement of engineering: GIX will build upon our deep and long-standing contributions to tech innovation in a leading-edge experiment to educate students for a new kind of world.
I invite you to watch this video to learn more about how we are building our momentum in science, technology and innovation, or visit gix.uw.edu.

Thank you for reading Washington Engineer.

Michael B. Bragg
Frank & Julie Jungers Dean of Engineering

P.S. I'd like to congratulate our alumnus Dennis Muilenberg who will become Boeing's new CEO on July 1. We are proud to call him a Washington Engineer.