Strategic Plan 2014-2019
Introduction from the Dean
The University of Washington's College of Engineering educates outstanding engineers and develops ideas with potential to change the world.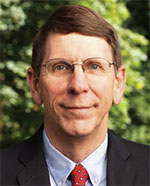 Engineers create jobs which drive the economy and are vital to solving society's largest problems. The UW is an economic powerhouse in the state, directly and indirectly affecting every resident of Washington. The College of Engineering accounts for 60% of UW's start-up companies that generate revenue and jobs, and spur economic activity.
For more than three decades, the UW has secured more federal research funding than any other public university in the country. Over 270 companies have been started by UW faculty and students, or with UW technology. Engineering faculty lead in the number of patent applications filed, patents received, and innovations reported.
Our students, faculty, and staff are at the center of our mission. We strive to ensure that every UW engineer is prepared for a dynamic career and for leadership. This five-year Strategic Plan represents our commitment to every student. Engineering is a rigorous and creative discipline and our students meet high standards of performance. Each student has unique hopes, dreams, and strengths. It is our responsibility to help every student succeed by ensuring we deliver on our promise to provide a superior educational experience.
For over 100 years we've graduated creative engineers and developed innovative solutions through our research. Going forward, we expect even more of ourselves as we redesign engineering education and tightly focus our research on solving tomorrow's challenges. We are called to rethink the way we educate students – focused on fundamentals while incorporating technological advances. We have hard work ahead of us and we ask for your commitment to support all of our students, faculty, and staff as they pursue their dreams and goals – for themselves and the world at large.
Sincerely,
Michael B. Bragg
Frank & Julie Jungers Dean of Engineering
Strategic Plan 2014-2019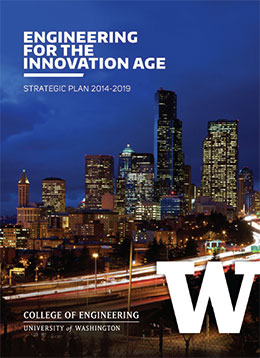 The UW College of Engineering Strategic Plan 2014-2019 is available as a PDF file. Inside, you will find expanded information about:
Our Vision
We will be known as a world leader in engineering education, in discovery, and in innovation that benefits the region, nation, and the world.
Our Mission
To develop outstanding engineers and ideas that change the world.
Our Values
In education, research, and service, we value:
Excellence
Leadership
Innovation
Diversity
Collaboration
Creativity
Risk-taking
Agility
Our Goals
Provide an educational experience that prepares our students to be leaders
Increase diversity, inclusion, and access to foster excellence
Build interdisciplinary collaborations that inspire innovation
Create industry and community partnerships to increase our impact
Focus on key global challenges where we can achieve greatest impact and excellence
Make a significant and visible societal impact