Give to the Capstone Fund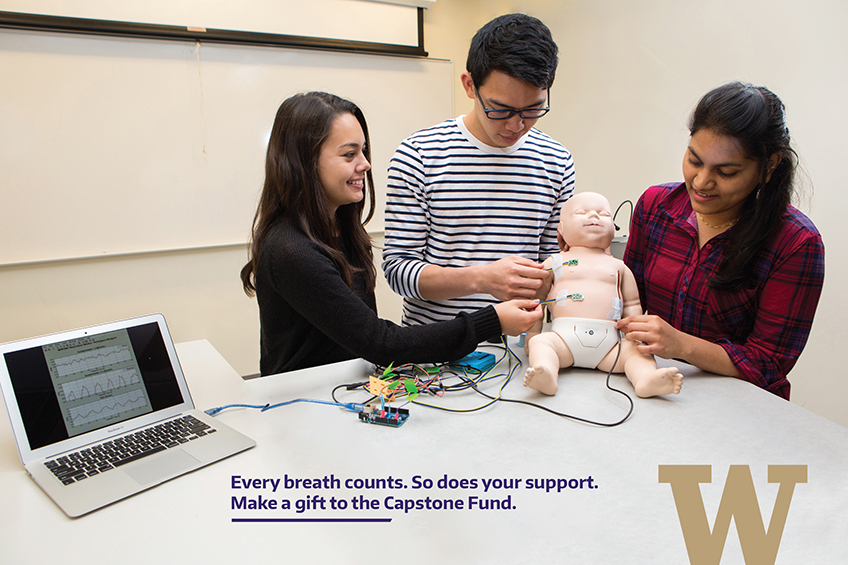 When a newborn struggles to breathe, every moment is critical. Because hospital workers are often not alerted until other symptoms appear, the resulting delay of treatment can lead to complications—and, in severe cases, death. Thanks to a team of UW engineering students, that could change.
For their senior capstone design project, the students worked with pediatric cardiologists from Seattle Children's Hospital to develop a new kind of infant monitor. This noninvasive apparatus measures changes in infant breathing, chest wall volume and contractions, and greatly reduces medical response time.
Capstone design projects are central to the engineering student experience. Students tackle engineering challenges with real-world impact. They hone their skills in problem-solving and communication while learning to work in teams—and their capstone design projects may even save lives.
Consider a gift to the Capstone fund today. Your generosity enables engineering students to purchase supplies, perform critical tests and move their projects beyond the design bench. Thanks to the Capstone fund, this team was able to build a prototype and to expand their device's capacity to identify dangerous symptoms. They are beginning clinical trials in collaboration with Seattle Children's Hospital.
Please consider a gift to help engineering students.
More Capstone Projects