Capstone design projects provide a valuable opportunity for students to apply their education to address real-world engineering challenges. Your gift supports engineering students to help move their ideas from design into reality and develop solutions with the potential to save lives.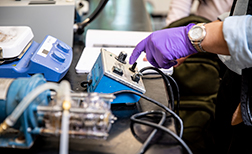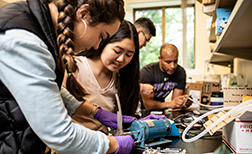 When natural disasters strike, power outages put vulnerable patients at risk, especially those who depend on supplemental oxygen tanks to breathe. For their senior capstone project, a team of engineering students designed an oxygen concentrator prototype that relies solely on solar energy to generate medical-grade oxygen onsite.
Thanks to support from the Capstone Design Fund, Team ElectroSolar was able to refine their research and rigorously test a working prototype. They plan to bring this technology to market to make an impact in areas with scarce sources of electricity.