Faculty Profile: Jessica Lundquist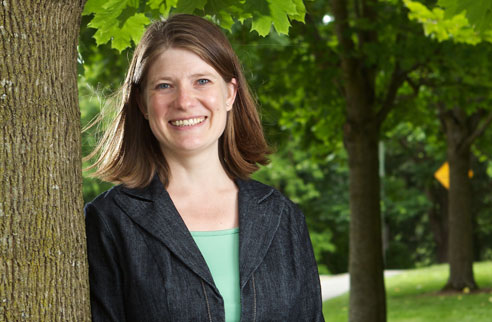 Jessica Lundquist, Associate Professor of Civil & Environmental Engineering
Jessica Lundquist's research often takes her out of the lab and into the field—to the mountains and lakes in and around Seattle, to study spatial patterns of snow and weather. She's an associate professor of civil and environmental engineering with a background in oceanography.
education
B.S., Atmospheric Science, University of California, Davis, 1999
M.S., Oceanography, Scripps Institution of Oceanography at University of California, San Diego, 2000
Ph.D, Oceanography, Scripps Institution of Oceanography at University of California, San Diego, 2004
What inspired you to pursue a career in science/engineering?
I had no plans to be an engineer! I wanted to write novels and took a lot of writing classes as an undergrad. However, as a junior, I switched majors to atmospheric science. I'd taken a geological oceanography class and saw pictures of Alvin (a U.S. Navy Deep Submergence Vehicle) diving to the bottom of the sea and thought it was really cool. Later, I studied coastal fog, hydrology and snow, becoming the first and only "high-altitude oceanographer!" I came to the UW because the civil engineering department needed a snow specialist.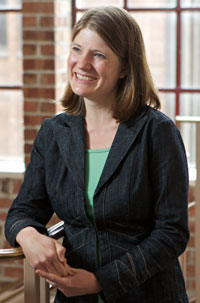 What are some of your current projects in snow research?
We've been working at the Cedar River Watershed for about three years. The watershed needs cold, fresh water to support both salmon and endangered bull trout. It rains so much in the winter that there is plenty of water, but it's a pretty small reservoir, so there sometimes isn't room to save enough water to last through summer. Our goal is to keep snow on the ground longer so that it can provide more water as it melts. The watershed is heavily forested. If the trees are too dense, snow is intercepted by the branches and can't reach the ground; too few trees and it's sunnier and windier making the snow melt faster. We're finding gaps or small forest clearings are best. It's unique work because it's a really hard place to measure anything. Field work isn't controlled like it is in a lab - at our Bear Creek site we actually had a bear who came and ate some of the equipment! Plus, the squirrels stole our itty, bitty temperature sensors and hid them in their nests.
In your field, what are some things on the horizon that excite you?
We're coming up with innovative ways to figure out and really understand how much it's raining in the mountains. A lot of air flows in and around the mountains are blocked by the mountains themselves. It creates barriers and shifts where the rain is. Knowing that information can be key in terms of understanding flooding.
What advice do you have for someone interested in pursuing hydrology?
In most branches of the sciences, you have to be able to mathematically communicate what you're doing, but it's also useful to have the writing and speaking skills to describe it. Also, I think it's okay not to know exactly what you want to do at first. You can change your mind along the way.
What are some of the benefits of working or studying at the UW?
I do work that involves people from the ecology, forestry, atmospheric sciences and fishery departments, and we have top programs in all of those fields. We have top engineering and environmental science programs across the board. It's amazing how many times I read a paper and find out the author is within walking distance from my office!
What do you like to do in your free time?
I like jogging around Green Lake with my son or taking him to the zoo. Before, my favorite thing was to go backpacking because I love the mountains, which is really why I ended up doing the research I do.