Faculty Profile: Alberto Aliseda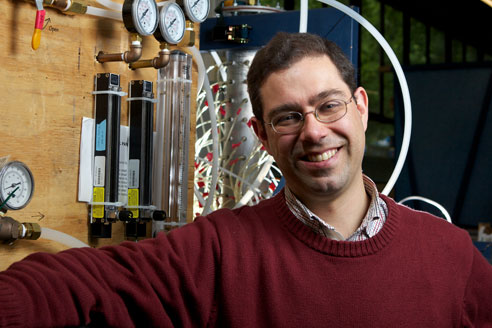 Alberto Aliseda, Associate Professor, Mechanical Engineering
Alberto Aliseda was born and raised in Spain, where he studied aeronautical engineering. Despite his aerospace degree, his interest isn't in planes, but in medical applications of fluid mechanics. He directs the Multiphase & Cardiovascular Flow Lab where he works to understand the motion of microbubbles in the blood stream to direct drug delivery.
education
B.S./M.S., Aerospace Engineering, School of Aeronautics, Universidad Politécnica de Madrid, 1998
M.S., Mechanical Engineering, University of California, San Diego, 2000
Ph.D, Mechanical Engineering, University of California, San Diego, 2004
What inspired you to pursue a career in engineering?
When I was a teenager in high school, I became fascinated with airplanes. I liked physics and mathematics and that came into play with airplanes, so I decided to become an aerospace engineer.
What is your research focus?
I did my Ph.D in fluid mechanics. I had the fundamental question of what happens when you put particles of some type - either solid, liquid droplets or gas bubbles - into a turbulent flow. While working on my Ph.D, my advisor started a company that created medical devices for vascular treatments, so I became aware of the application of fluid mechanics in medicine. One of the reasons I was drawn to the UW was its fantastic school of medicine. This allowed me to explore the topic more. A major focus of my lab is to understand the motion of microbubbles when they're inserted into the blood stream so that we can direct and deliver drugs to specific locations.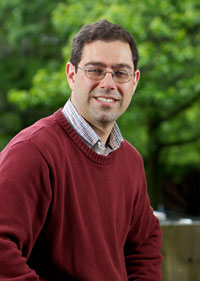 What has been a highlight of your career?
I had a successful collaboration with Pfizer (the largest pharmaceutical company in the world) where I developed a model for how tablets and pills are coated so that they're protected from the environment during storage and transportation. We understood the fundamental physics of the process and, more importantly, implemented a tool that's actually in use in the company. That's the kind of research I enjoy the most: it has applications throughout engineering, but is also a specific enough contribution that can be immediately implemented for people's use.
What are some things on the horizon of fluid mechanics that excite you?
The concept of predictive surgery is really exciting. Part of my cardiovascular fluid mechanics research is directed towards enabling surgeons to do predictive surgery and optimize what they are going to do before it happens. They can choose different routes for surgery with simulation software that helps create a picture of what will happen inside the patient in advance of the operation.
What advice would you offer to someone interested in fluid mechanics?
Fluid mechanics is a mature field since it's been around for over 200 years, but there are surprisingly still a lot of open questions. Don't feel like all the interesting problems have been solved. Look a bit deeper and find an exciting program that has an everyday societal application. That helps keep your motivation and scientific interest strong.
What is one of the best aspects of working at the University of Washington?
One of the things I'm most proud of is that we find the balance between doing world-class research and also educating the next generation of scientists and engineers. That is something I take very seriously. We find good projects for them, provide mentoring and a nurturing environment where they can mature at the beginning of their careers. We are blessed that the UW can attract some of the top students in the world.
What do you like to do in your free time?
I have three daughters and our family likes to go hiking. The Cascades and the Olympic Peninsula are two of my favorite places outside of Seattle.