Assistant Professor of Computer Science & Engineering and Electrical Engineering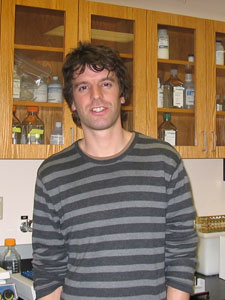 Georg Seelig joined both Computer Science & Engineering and Electrical Engineering as an assistant professor and is part of the Experimental Computer Engineering Lab (ExCEL). ExCEL encourages and facilitates broad collaboration between the departments along the computer engineering boundary.
Seelig came to us from the California Institute of Technology's Natural Computation Group where he was a postdoctoral researcher. The group investigates how synthetic biochemical systems can be designed to carry out algorithms and compute. In this research, Seelig developed DNA-based catalytic amplifiers and logic gates, demonstrating that DNA-based components can be modularly linked into multi-layered logic circuits that embody the main features of digital logic.
Seelig holds a Ph.D. in Physics from the University of Geneva. He received a Burroughs Wellcome Foundation Career Award at the Scientific Interface.
See Georg Seelig's Seelig Lab Web site.