Kevin Jamieson
Guestrin Endowed Professorship in Artificial Intelligence and Machine Learning,
Paul G. Allen School of Computer Science & Engineering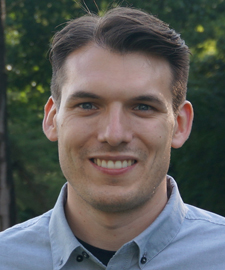 Ph.D. Electrical Engineering, University of Wisconsin-Madison, 2015
M.S. Electrical Engineering, Columbia University, 2010
B.S. Electrical Engineering, University of Washington, 2009
Kevin Jamieson joins the UW this fall as the Allen School's Guestrin Endowed Professor in Artificial Intelligence & Machine Learning. He previously held a postdoctoral position at the University of California, Berkeley with a focus on adaptive data collection algorithms for machine learning.
In his work, Kevin develops adaptive learning or active learning model algorithms to predict preferences in users quickly and with few questions. His work has been adopted in a range of applications, including social science experiments and research questionnaires. He led the development of NEXT, an open-source software that facilitates active learning for online, real-time applications. The New Yorker Magazine employs NEXT for data submitted by users who vote in the cartoon caption contest, providing a display of captions rated as funny.
Kevin is the inaugural recipient of the Guestrin Endowed Professorship, created in the Allen School following Apple's acquisition of Turi, the machine learning startup created by professor Carlos Guestrin.