Associate Professor, Civil & Environmental Engineering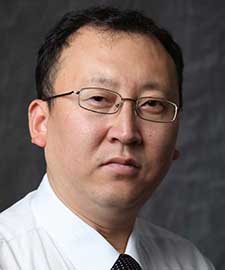 Ph.D. Civil & Environmental Engineering, University of Wisconsin, Madison
M.S. Computer Sciences, University of Wisconsin, Madison
M.S., B.S. Automotive Engineering, Tsinghua University, P.R. China
Jeff Ban begins this fall as an associate professor. He joins us from the Rensselaer Polytechnic Institute where he was an associate professor in civil and environmental engineering and industrial and systems engineering.
To resolve transportation related congestion, energy, and emission problems in urban areas, Jeff uses mathematical modeling and simulation techniques to explore how various transportation systems operate in tandem, from freight trucks to passenger cars. By utilizing driver cell phones, GPS and other tracking systems in cars, real-time traffic data can be used to better monitor and manage existing systems. To develop more efficient, safer transportation systems, he utilizes insight from such vehicle sensors, as well as other data gathering methods to learn about vehicle and traffic system performances. Looking to the future of transportation, Jeff also researches emerging driverless car technology and is working to develop intelligent transportation systems technologies.
He received the 2011 NSF CAREER Award, New Faculty Award by the Council of University Transportation Centers (CUTC) and American Road & Transportation Builders Association (ARTBA), and the School of Engineering Research Excellence Award (for Junior Faculty) from Rensselaer Polytechnic Institute in 2014.