Sawyer Fuller
Assistant Professor, Mechanical Engineering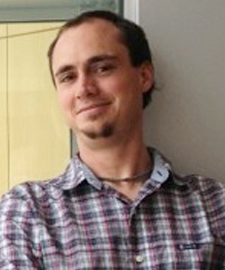 Ph.D. Bioengineering, California Institute of Technology, 2014
M.S. Mechanical Engineering and Neuroengineering, Massachusetts Institute of Technology, 2003
B.S. Mechanical Engineering, Massachusetts Institute of Technology, 2000
Sawyer Fuller joins the UW as an assistant professor in Mechanical Engineering. Previously he was a postdoctoral researcher at Harvard University.
Sawyer creates biologically-inspired sensors, control systems and mechanical designs targeted at insect-sized air and ground-based robots, and investigates the flight systems and mechanics of insects. His work aims to create fully-autonomous center-meter scale robots that are capable of performing useful tasks in complex and uncertain environments such as the real world. Sawyer's research has the potential to improve miniaturized and power-efficient sensing and control systems, and lead to more dynamic, robust, and lifelike robotics at all scales.
He has received a National Science Foundation graduate fellowship and a MIT Presidential fellowship. Sawyer's work has appeared in journals such as Science and Proceedings of the National Academy of Sciences, and has been featured by news outlets such as Wired, The Scientist, and in a cover article in The MIT Technology Review.