Michalakis (Mike) Averkiou
Associate Professor, Bioengineering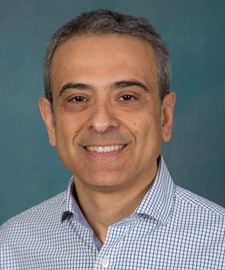 Ph.D. Mechanical Engineering, University of Texas at Austin, 1994
M.S. Mechanical Engineering, University of Texas at Austin, 1989
B.S. Mechanical Engineering, University of Texas at Austin, 1987
Mike Averkiou comes to the UW from the University of Cyprus, where he was an associate professor and director of the Biomedical Ultrasound Laboratory. Mike has worked in academia and industry. Early in his career he was a postdoctoral fellow and adjunct research professor in the UW Applied Physics Laboratory. Mike then led liver oncology investigations at Philips Medical Systems.
Mike develops new ultrasound imaging and therapy technology for disease detection, improved cancer treatment and monitoring, improved drug delivery to targeted cells, and heart disease. Using advanced nonlinear imaging techniques and microbubble contrast agents, he is able to detect the earliest stages of tumor angiogenesis and atherosclerosis, and closely monitor their treatment. He focuses on transferring innovations from preclinical research into clinical use.
He is a senior member of IEEE, an Acoustical Society of America fellow and was awarded the Marie Curie Chair of Excellence from the European Commission. He currently holds 38 US and European patents.