Marco Salviato
Assistant Professor, Aeronautics & Astronautics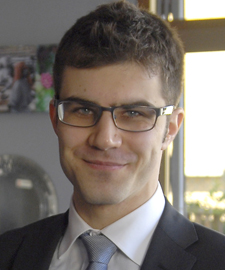 Ph.D. Mechanical Engineering, University of Padova, 2012
M.Sc. Mechanical Engineering, University of Padova, 2009
B.Sc. Mechanical Engineering, University of Padova, 2007
Marco Salviato joins A&A this fall as an assistant professor. He was most recently at Northwestern University as a research assistant professor in civil and environmental engineering.
His research focuses on understanding the mechanical behavior of materials and structures at multiple scales through the formulation of advanced computational and analytical approaches and new experimental techniques. His objective is developing computational and analytical tools to assist the design of lighter aerospace and automotive structures with improved manufacturability, damage tolerance and structural stability and integrity.
He has received the Italian Association for Strain Analysis (IASA) Juniores Prize for his work in composite structures and his research on fracturing mechanics has been published in the International Journal of Fracture and the Journal of Engineering Mechanics.