Assistant Professor, Bioengineering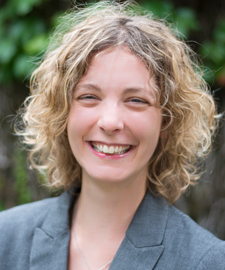 Ph.D. Bioengineering, University of Washington, 2008
B.S. Biomedical Engineering, University of Wisconsin-Madison
Kelly Stevens joins the Department of Bioengineering this winter as an assistant professor with a joint position in Pathology. She was previously a research scientist working to develop new regenerative therapies for treating liver disease at the Massachusetts Institute of Technology. Prior to that, she was a postdoctoral fellow at MIT and the Howard Hughes Medical Institute developing new microtissue and bioprinting methods.
Kelly's research focuses on fabricating engineered tissue systems to understand and treat global heart and liver disease. For example, she developed micro-patterning techniques to create pre-patterned blood vascular cells that morph into functioning human blood vessels to increase the survival rate of implanted cells. This work has applications in heart and liver regeneration science. Kelly will be part of the Institute for Stem Cell & Regenerative Medicine and the Center for Cardiovascular Biology.
She received a graduate research fellowship from the National Science Foundation and has been published for her work in regenerative medicine.