Elizabeth Nance
Clare Boothe Luce Assistant Professor, Chemical Engineering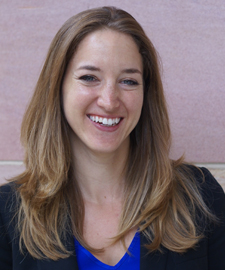 Ph.D. Chemical and Biomolecular Engineering, Johns Hopkins University, 2012
B.S. Chemical Engineering, North Carolina State University, 2006
Elizabeth Nance joins Chemical Engineering this fall as the Clare Boothe Luce Assistant Professor. She comes from Johns Hopkins Medical Institutions where she was a postdoctoral fellow in anesthesiology and critical care medicine.
Elizabeth's work integrates engineering, neuroscience, and medicine to develop translational nanotechnology platforms for use in brain disorders. She does this by taking advantage of the properties of various nanotechnology platforms in order to assess the healthy brain microenvironment, and how that changes in response to disease. By using nanoparticles as biophysical probes and imaging biomarkers, she can then determine and overcome any in vivo barriers preventing the effective delivery of therapeutics. She developed the first nanoparticles that could both penetrate and move within the brain, to improve imaging and treatment of brain ailments such as cancer, autism, stroke and cerebral palsy.
Elizabeth was named one of Forbes 30 under 30 in Science and Medicine as one of the "most disruptive, game-changing and innovative young personalities in science." She received a Burroughs Wellcome Career Award, a Hartwell Foundation fellowship and has won awards from the Society of Critical Care Medicine and the Journal of Controlled Release. She holds two patents for nanotechnology uses in the brain.