J. Devin MacKenzie
Professor, Materials Science & Engineering and Mechanical Engineering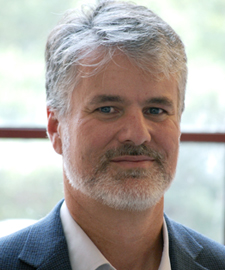 Ph.D., M.S. Materials Science and Engineering, University of Florida, 1998
B.S. Materials Science and Engineering, Massachusetts Institute of Technology, 1993
Devin MacKenzie joins the College of Engineering this fall through a Washington Research Foundation Professorship in Clean Energy and joint positions in Mechanical Engineering, Materials Science & Engineering and the Clean Energy Institute.
Devin is an expert in emerging electronic materials, including organic semiconductors, nanomaterials, photovoltaics, thin film batteries and printed and flexible electronics including flexible and ultrathin displays, compact wireless sensors, wearable electronics, and health monitoring devices. He has spent the past 15 years leading research and entrepreneurial efforts worldwide. He is the CEO of Imprint Energy, a startup focusing on flexible batteries and wearable electronic devices. He was the co-founder of Plastic Logic, a leader in printed polymer transistors that introduced the world's first ink-jet printed plastic screen device used in mobile technology. Prior to that he was a research associate and visiting scientist in the Optoelectronics Group in the Department of Physics at the University of Cambridge where he developed novel processes for organic solar cells and OLEDs.
Devin holds over 110 patents and publications. He received the Global Cleantech 100 Award and led Imprint Energy to be recognized as one of the 50 Smartest Companies by The MIT Technology Review in 2015.