Assistant Professor, Civil & Environmental Engineering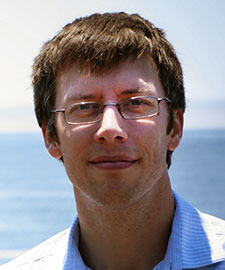 Ph.D. Civil Engineering, Duke University, 2012
M.A.Sc. Civil Engineering, University of Waterloo, Canada, 2009
B.Eng. Civil Engineering, Lakehead University, Canada, 2007
Richard Wiebe joins the Department of Civil & Environmental Engineering as an assistant professor. He received his Ph.D. in civil engineering from Duke University. He was most recently a postdoctoral researcher at the U.S. Air Force Research Laboratory in Dayton, Ohio.
Richard's research focuses on experimental and computational nonlinear dynamics of structures. He is extending the current linear design paradigm into the nonlinear regime, allowing more accurate analysis and increased efficiency in the development of lightweight structures and in extreme loading environments.
His work includes the study of high-speed lightweight aerospace structures, seismic analysis of civil structures, damage detection and health monitoring, and energy harvesting. He is currently working on building structural models that demonstrate complex coupled response, without losing critical information such as the bifurcations so common in nonlinear systems.