Associate Professor and Chair, Human Centered Design & Engineering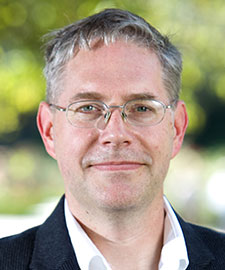 Ph.D. Information & Computer Science, University of California, Irvine, 2000
M.S. Information & Computer Science, University of California, Irvine, 1995
M.S. Math & Computer Science, California State University, 1992
B.A. Cognitive Science, University of California, Los Angeles, 1988
David comes to HCDE from the UW's Information School (iSchool) where he was an associate professor. While at the iSchool, David spent two years as a program officer at the National Science Foundation (NSF) in the Computer & Information Science & Engineering Directorate, Information & Intelligent Systems Division and Computing and Network Systems.
David's research interests span computer supported cooperative work, human-computer interaction and social computing. Currently, David has ongoing projects to analyze and design facilitation mechanisms for mass interaction in large-scale online communities.
David has received recognition for his research including a 2013 Distinguished Paper Award from the American Medical Informatics Association Fall Symposium, a 2008 Best Paper Award from the AAAI International Conference on Weblogs and Social Media and a 2003 Royalty Research Scholar award from the University of Washington.