Campbell Professor, Materials Science & Engineering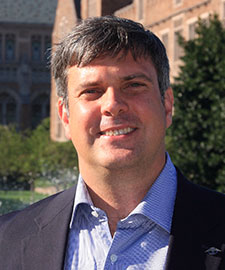 Ph.D. Chemistry, Northwestern University, 1996
M.S. Chemistry, Northwestern University, 1992
B.S. Chemistry, Harvey Mudd College, 1991
Bruce Hinds comes to the UW from the University of Kentucky where he was a professor of chemical and materials engineering. He will begin this fall as the Campbell Professor in the Department of Materials Science & Engineering.
Bruce researches nanostructures and nanoscale fabrication, such as electronics fabrication at the molecular level and novel technologies for nano-lithography. His research group at the University of Kentucky created a new method to form carbon nanotube membranes using nanoscale ion tubes to pump fluid thousands of times faster than conventional materials. With funding from the NIH, he developed a smart skin patch to treat nicotine dependence.
The Hinds Lab at the University of Kentucky received $4.7 million in attributed funding and $16.4 million in collaborations. He received an NSF Early Career Award, Presidential Early Career Award, and a Kavli Frontiers of Science Fellowship from the National Academy of Science.