Assistant Professor, Civil & Environmental Engineering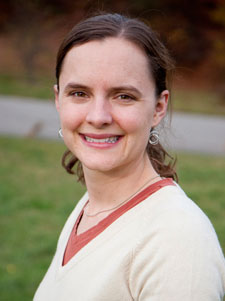 Ph.D. Environmental Engineering Massachusetts Institute of Technology, 2009
B.S. Civil and Environmental Engineering, Rice University 2002
B.A. Art and Art History, Rice University 2002
Rebecca Neumann joins Civil & Environmental Engineering from Harvard University, where she was a NOAA Climate and Global Change postdoctoral fellow. Her doctoral thesis at MIT focused on a major human health problem in Bangladesh: arsenic contaminated groundwater. By measuring and modeling the flux of water and solutes from rice fields and man-made ponds, she was able to determine the impact that these sources have on groundwater arsenic concentrations. Her results shed light on the complex hydrologic and biogeochemical interactions responsible for current groundwater arsenic concentration patterns, and lead to new ideas for providing the country with safe drinking water.
Neumann's research is highly interdisciplinary, combining hydrology, biogeochemistry, and micro- and plant biology. Her work explores how land-surface modifications affect human and environmental health by altering the fluxes of water, nutrients, carbon and contaminants in underlying soils with the goal of informing policy decisions. In her postdoctoral position, Neumann studied how plant roots modulate the amount of water moved through the landscape, and determined how to correctly represent roots in models of vegetation-climate interactions. Currently she is building upon both her PhD and postdoctoral work, pursuing projects on arsenic groundwater contamination and plant-controlled hydrology and biogeochemistry.
Among her awards and honors are the NOAA Climate and Global Change Postdoctoral Fellowship, the National Science Foundation Graduate Research Fellowship and a MIT Presidential Fellowship.
See Rebecca Neumann's faculty Web page.