Arvind Krishnamurthy
Associate Professor, Computer Science & Engineering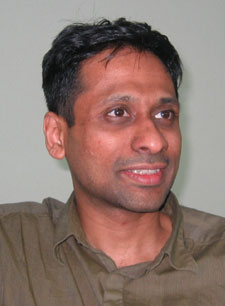 Ph.D. Computer Science, University of California, Berkeley 1999
M.S. Computer Science, University of California, Berkeley 1994
B.Tech. IIT Madras, Madras, Computer Science 1991
Arvind Krishnamurthy was recently hired as an associate professor in the Department of Computer Science & Engineering. He has worked as a research professor in the department since 2005. Prior to joining CSE, he was an assistant professor at Yale University.
Dr. Krishnamurthy works primarily on distributed systems and computer networks. With distributed computing and networked systems becoming increasingly integral to our everyday lives, his research focus is to develop network primitives, protocols, and services that can serve as building blocks for a more efficient and robust Internet to help meet emerging challenges.
His recent projects include building robust peer-to-peer systems that provide sufficient levels of performance and privacy; making the Internet more reliable and resilient to faults; building key-value storage systems that are extensible, consistent, and scalable; and network management, measurement and security.
Among his awards and honors are an NSF Career Award, and several best paper awards.
See Arvind Krishnamurthy's faculty Web page.