Minority Scholars Engineering Program (MSEP)
MSEP is committed to increasing the number of underrepresented students in engineering and computer science. MSEP promotes academic and professional excellence, leadership skill development, and fosters community for its affiliates.
MSEP is the College of Engineering's recruitment and retention program and is open to all students.
Men of Color in Engineering Leadership Series
The leadership series connects students to influential men of color, a community of peers and staff who assist students with their goals to obtaining engineering degrees. In partnership with UW Brotherhood Initiative.
Chat and Chew with Terrell Strayhorn: What My Belonging Research Says and Why You Should Care
April 18, 2017, 11:30 a.m. - 1:00 p.m.
Electrical Engineering Building 303
RSVP »
Join us for an informal discussion with guest lecturer Terrell Strayhorn. Bring your own beverage; Entree provided by the College of Engineering's Diversity & Access program and MSEP. Learn more »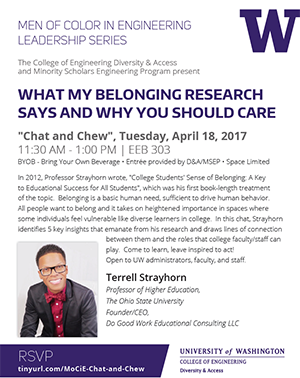 Lecture: Mis-Education of Men of Color in Engineering and STEM: What We Can Do to Fix It
April 18, 2017, 5 - 7:00 p.m.
HUB 334
RSVP »
Drawing on insights and anecdotes from Carter G. Woodson's books, "The MisEducation of the Negro," this talk presents the historical biography and commitments of Dr. Woodson as a way of introducing "miseducation"—what it is and why we should care.
UW administrators, faculty & staff and students are welcome. Learn more »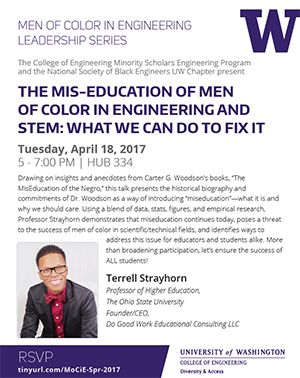 Academic Services for Pre-Engineering Students
Learn more about the resources available to help all pre-engineering students succeed:
Academic Workshops
A one-credit/no credit course (ENGR 197) that provides additional support for students in engineering prerequisite classes. More »
Study Centers
Study resources and learning facilitators available in the Engineering Academic Center in Loew Hall, second floor. More »
ENGR 202 Seminar
A one-credit/no credit seminar for students wanting support to succeed in engineering. Offered Winter and Spring quarters, each quarter has its own emphasis. More »
Co-Enrollment Courses
MSEP works with the Mathematics, Chemistry and Physics departments to enroll students in math and science courses with other students with similar backgrounds and interests, creating the smaller communities that many students seek at large institutions. Courses are noted in the time schedules as "Includes MSEP/WiSE students" and are designed to work with the appropriate Academic Workshops. To register for these courses, students must see an adviser for MSEP, WiSE, or other engineering adviser.
NACME
The University of Washington is a National Action Council for Minorities in Engineering partner university, providing private source scholarships for African American, American Indian and Latino men and women in engineering. More: Engineering Scholarships »
Research and Work Experience
MSEP also works collaboratively with the College of Engineering Undergraduate Research and Internship Program to help connect students with research and career building opportunities.
Student Societies
MSEP hosts three national student organizations that have affiliated college chapters at the UW American Indian Science and Engineering Society (AISES); National Society of Black Engineers (NSBE); and Society of Professional Hispanic Engineers (SHPE). These three groups collaborate with the Society of Women Engineers as the Coalition of Minority and Women Engineering Societies (CMWES). More: Organizations, Clubs and Competitions »
See Also - Programs for Incoming First Year Students
MSEP ALVA is a post-college freshmen intern experience for engineering/computer science majors.  UW freshmen are strongly encouraged to connect with MSEP prior to applying to this selective intern program.  For pre-freshmen experiences, students are encouraged to consider the UW GenOM ALVA Program.
---
Join us in appreciation for support and current-year funding from these organizations:







To become a sponsor of MSEP, contact
Jenny Selby, 206-543-0874.