ALVA (Alliances for Learning and Vision for Underrepresented Americans)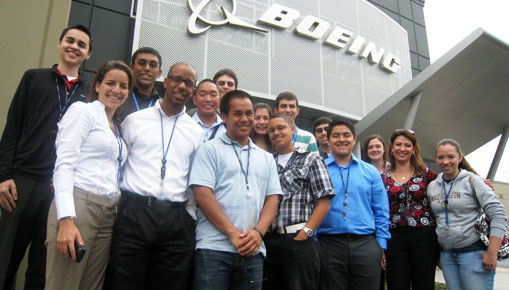 MSEP ALVA is a post-freshman-year college internship experience. New, entering UW freshmen are encouraged to connect with MSEP ALVA during their initial year at the UW. Students can set up a meeting with an MSEP Adviser, attend MSEP ALVA presentations, enroll in Academic Workshops, or contact MSEP.
For other ALVA programs, consider the UW GenOM ALVA Program or the Foster School of Business.
About ALVA
Open to all students, the ALVA intern program targets students who have connected with MSEP during their first year and are pursuing studies in engineering and computer science related disciplines. ALVA is a partnership between industry and the Minority Scholars Engineering Program that seeks to significantly increase the retention-to-graduation rate in engineering and computer science related fields for students from underrepresented minority communities.
During the intern portion, ALVA students work with professionals so they can better visualize themselves as future engineers. Most recent ALVA students have worked for companies such as The Boeing Company and Jet Propulsion Laboratories. Students gain valuable professional mentors who can support them throughout their engineering schooling and career. The intern portion of ALVA begins mid to late June and concludes in September (10-12 weeks). For the current academic year, the industry partners are The Boeing Company and Blue Origin.
In addition to the hands-on engineering experience, ALVA students will be engaged with the College of Engineering and other ALVA students to develop their academic and interpersonal skills prior to and during the internship and into the following academic year. Students who complete ALVA are better-prepared, more motivated and come out with a strong peer and professional network. All of these combine to increase their chances of completing a four-year degree in engineering or computer science.
Apply to ALVA
Applicants to the MSEP ALVA program must satisfy the following:
Have entered the UW as a matriculated student during the current academic year as a first-year student.
Show satisfactory completion of English Composition and significant credits in pre-engineering/engineering course work by the end of Spring Quarter of the current academic year (courses include any engineering departmental and engineering prerequisite courses or prerequisites for such coursework).
Achieve a UW accumulative GPA of 3.0 or higher by the end of winter quarter.
Persist in engineering or computer science curriculum throughout the first year.
Apply to MSEP ALVA beginning early December (UWNetID login required) or email MSEP to request an application.
Application deadline: January 4, 2019, 5 p.m.
What MSEP ALVA Participants Said...
"The University of Washington offers many great programs to help gain engineering experience but there is none better than ALVA."
"There are not too many college freshmen who can say they worked their first summer at a prestigious company in the engineering field and earned a salary too!"
"The internship was an amazing experience and a great opportunity; I strongly encourage all interested and eligible freshmen to apply."
"ALVA is SO much more than 'work'.  Meeting the Blue Angels and having ALVA weekends, I've made some of my greatest friends this summer..."
"The friends and coworkers you'll make will provide excellent support both in and out of the classroom."
"Due to the skills I acquired during my summer at The Boeing Company...I will be returning to intern next summer."