All vaccinated UW students must now upload vaccination documentation, such as a vaccination card or other vaccination record. If you previously completed your attestation, simply upload the documentation. If you have not yet completed your attestation, you can do so when you upload your proof of vaccination. The deadline to upload your vaccination documentation is October 29, 2021.
Welcome back! We're eager to see you on campus this autumn as we return to in-person instruction and activities. Please bookmark and refer to this page for the latest information and policies for students, faculty and staff. This page will continue to be updated before and during autumn quarter.
Last updated: September 14, 2021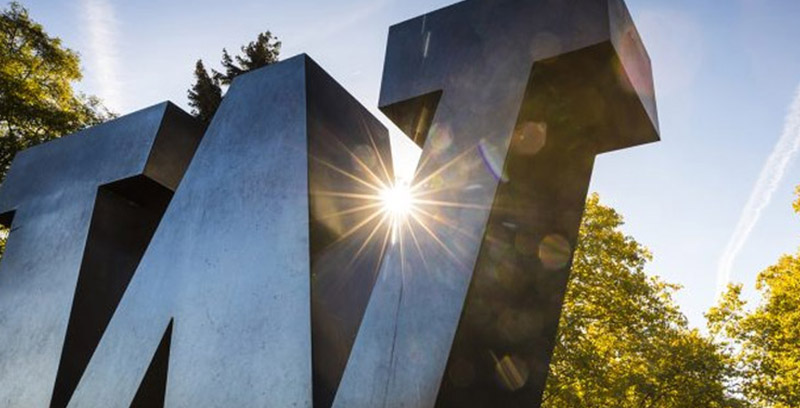 We're eager to see you on campus this autumn as we return to in-person instruction and activities.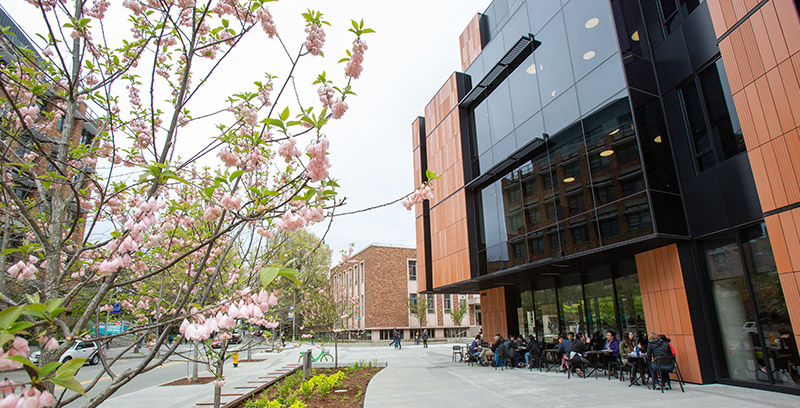 Information for faculty and staff including prevention plans, trainings, and other important requirements to complete before returning to campus.
Frequently asked questions
For more information, please refer to the Environmental Health & Safety (EH&S) COVID-19 Health and Safety Resources and UW's Novel Coronavirus: Facts & Resources page. Please note that this FAQ document will be updated as new information is released, however there may be a delay as things are changing quickly.
Face coverings Vaccines Events Telework
Face coverings
Do I need to wear a mask?
Effective August 14, 2021, face coverings are required to be worn at the University of Washington, regardless of vaccination status, indoors when other people are present, and in all public and common areas, such as lobbies, hallways, stairways, restrooms, elevators, and in shared vehicles. This policy applies to anyone on site at a University location. Please review the UW's Face Covering Policy and EH&S' Face Covering Requirements for more information and FAQ's, including acceptable face coverings, when it is appropriate to remove your face covering, and how this policy is being enforced.
How can I report someone who is not wearing a face covering where it is required?
If you see someone without a face covering in accordance with the UW COVID-19 Face Covering Policy, you can report it to their supervisor (for University personnel), a representative of their academic unit (for students), or the Environmental Health & Safety Department.
Who provides face coverings to personnel?
Unless personnel have specific, job-required PPE, local units must distribute two cloth face coverings to personnel who are required to come to campus for work-related use. Personnel are responsible for laundering their University-issued reusable cloth face coverings and remembering to bring them to work. Personnel may also use a personally purchased alternative face covering as appropriate.
Units can order face coverings from the Creative Communications Safe and Clean storefront. Information about accessing the storefront is available from UW Procurement.
What about people who read lips or others who need an alternative type of mask?
Clear masks or cloth masks with a clear plastic panel are an alternative type of mask for people who interact with:
People who are deaf or hard of hearing
Young children or students learning to read
Students learning a new language
People with disabilities
People who need to see the proper shape of the mouth for making appropriate vowel sounds (for example, when singing)
Alternative types of masks can be ordered from the Creative Communications Safe and Clean Storefront. Information about accessing the storefront is available from UW Procurement.
Do I need to maintain a 6-foot distance from other people while wearing a face covering?
While maintaining a 6-foot physical distance from other people is no longer required it is recommended, regardless of your vaccination status and especially for non-fully vaccinated individuals, when actively eating and drinking, and in crowded settings or in areas that are not well ventilated.
Physical distancing will continue to be required healthcare, childcare, and K-12 settings including youth programs, regardless of vaccination status.
If employees are working on campus but supervisors are not always present, who is responsible for mask monitoring?
Designate another supervisor/manager to monitor the employee(s).
If a supervisor knows an employee is not wearing a mask, what do they do?
Supervisors are responsible for ensuring personnel wear a face covering indoors in accordance with the UW COVID-19 Face Covering Policy. If your employee is not wearing a mask, ask to speak with the employee privately. Remind them about the policy and ask why they are not wearing a mask (Did they forget or lose their mask?). Depending on their response, the supervisor should inform the employee that they will need to put on mask or they cannot remain in the workplace. If personnel state they are unable to wear a mask due to a health condition, refer the individual to the formal accommodation request process.
Vaccination attestation and requirements
I need to complete my vaccination attestation, what should I do?
All UW workers are required to show proof of vaccination against COVID-19 no later than Monday, October 18, 2021 as a condition of employment unless a medical or religious exemption is approved. Please note that student employees must verify their vaccination status using the Student COVID-19 Vaccination Form in addition to completing the attestation in Workday. Please find more information about meeting the vaccine requirement as a condition of employment here.
How do I claim a medical or religious exemption to the vaccine requirement?
For faculty, staff and student employees: Please visit UW's COVID-19 Vaccination Requirement page for information and forms for claiming a medical or religious exemption.
Details are being finalized for how students can request an exemption for a documented medical condition or a sincerely held religious belief and will be posted on the site when available.
How can a supervisor determine if their employees are vaccinated?
In-person events
I'm planning an in-person event, are there guidelines that I should follow?
Can I require proof of vaccination for my event?
Adopting a vaccination requirement for an event is encouraged by the University and may be required by a unit or event organizer so long as these guidelines and COVID-19 Prevention Guidelines for In Person Events or specific state and local guidelines, as applicable, are followed (e.g., athletics, performing arts).
If you are interested in requiring proof of vaccination or a negative test for your event, you are required to follow the Guidelines for Establishing a Vaccination Requirement for In-Person Events and University guidelines to ensure compliance with applicable non-discrimination and privacy laws and policies. Please review them carefully.
Telework
What is the process for staff to request a hybrid or telework arrangement?
The College of Engineering has developed telework guidance for staff for the 2021-2022 academic year. Supervisors should work with direct reports to establish telework plans responsive to the UW's revised telework policy.
What is the process for instructors to request remote teaching accommodation?
Instructors with other extenuating circumstances not involving a disability accommodation that require special arrangements for altered teaching schedules, or to teach a course remotely, must have their request first approved by a dean or chancellor. These requests will all be evaluated on a case-by-case basis. In general, faculty granted such accommodations are expected to be staying at home and not engaging in other outside activities unrelated to their own health care or that of dependents.
Faculty requesting a personal medical accommodation to move an in-person course to fully remote should contact UW's Disability Services Office and work with their chair regarding their request. Chairs should inform Associate Dean Dan Ratner and Director of Policy and Administration Charlotte Goddard when they receive a request from faculty to move a course to fully remote instruction.
Can personnel work out of state? What's the process for requesting approval?
Employees may have a work location outside of Washington when they receive advance approval. Approval for out-of-state hiring or for current employees to work out of state is granted by the Dean and must be supported by a compelling policy, critical skill-based, or family health circumstance. This policy is based on guidance from Central HR referenced on Telework, remote work, and out-of-state work. Refer to the following link for more information.
Out-of-state work arrangements for faculty is still considered short-term and temporary. UW faculty—both teaching and research track- are expected to conduct research and teach in-state.
The Office of Academic Personnel provides guidance on international remote work.